Deanna Purza – Presidential Director
This is my Nutrimetics Success Story…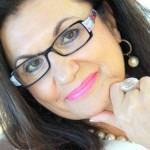 I first discovered Nutrimetics when when I reluctantly attended a beauty workshop at my sister's home.  At the time, I had a full-time career and two young children, the youngest being three years old.  Although extremely busy, my sister's enthusiasm for the Nutrimetics product convinced me that I would be missing a unique experience if I didn't attend.  As a result, I joined Nutrimetics in February 1980, my goal being to get to the Seminar in Hawaii that year.
By May, I had become an ESM.  By July I had achieved my first company car and by September, my husband and I were in Hawaii.  Finally in December that year, I had achieved Sales Director Status (a Nutrimetics world record), yet was still working full-time in another position as well as raising two children.
I have lost count of the many luxury cars I has since achieved.  I've travelled all over the world in luxury with the compliments of Nutrimetics and received many exciting incentives, the best being a $140,000 Home Award.
In developing my business over the years, I've achieved many awards including Queen of Seminar, Group Sales, Sponsoring, ESM Development Awards and many others.
People often ask me, how I did it, my answer is simply "I just went and did it".
If I can do it so can you!
Fill in your details below and I'll be in touch to share how you just how simple it is.
Deanna Purza