Franca Martino – Executive Sales Manager
This is my Nutrimetics Success Story…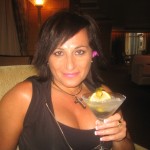 When I started with Nutrimetics, I fell in love with the products first but when I saw the opportunity and what the company had to offer, I took it more seriously.  The hobby became a career for me, the turn around was the travel. I thought that the only way I am going to see the world in 5 star luxury, was through this company. Well 25 overseas holidays later, I have enjoyed every moment, shared great memories and seen amazing places.
I love the lifestyle and the flexible hours it offers, no more 9-5 for me. It also gives me the opportunity to meet amazing people from all over Australia and has also extended to overseas. The company has many other great incentives like the company cars we drive, sports cars, jewellery, short getaway holidays and the list goes on.
The training and support I get from my upline Deanna Purza is priceless.  This lady sets the pace all over Australia and New Zealand.  Her training consists of business basics to product knowledge, selling skills to practical classes which include makeup, skin care and body treatments.  These classes are held weekly to help you with creative ideas on how we can be more of service to our customers in the field. There is also a Development Class which is unique and an intensive programme to help you move to the next step and help broaden your mind and potential to expand your goals and dreams. This class also shows how to lead by example and learn how to manage people that come into your business.  By taking these classes myself, it has given me the confidence to promote myself in a creative and professional way so to attract the right people in my business.
What I love about the business is, even though it is your own business, you are never alone knowing that there is always help and support at hand whenever I need it.
If you want more fun and friendship in your life, you are in the right place.  Enter your contact details in the space below and I'll be in touch to share how simple it is to become part of the Dream Believers team.
Franca Martino.