Lina Winship – Executive Sales Manager
This is my Nutrimetics Success Story…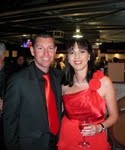 I joined Nutrimetics because I was looking for a part time job with flexible hours which would generate an extra income to pay for our wedding and honeymoon to Hawaii.  I was working full time in a bank as a supervisor, coming home each day very tired and quite stressed, Nutrimetics took me away from this, instead offering me fun and the opportunity to work flexible hours while growing a business I love.  Nutrimetics has given me the opportunity to earn an attractive part time income as well as helping me develop into a positive, committed, goal orientated Sales Manager.  I have learnt to be focused and committed, in order to achieve the awesome Nutrimetics rewards.
Deanna has supported me via monthly phone calls and the occasional visit to Adelaide where she has helped me and my team realise their potential and create belief in themeselves.  Personal development is Deanna's strength so she is always willing to help whenever we ask.
Nutrimetics has supported my lifestyle by giving us the opportunity to purchase our new home, spoil ourselves on family holidays, take time off whenever I wish and being able to work flexible hours to suit my family.  As a mum it is important for me to be there for my son, especially to take him to school and pick him up at the end of the day.  I even get to take weekends off to go away for a mini holiday.  Nutrimetics has provided me many company cars and numerous overseas holidays to destinations like Japan, Hawaii, Bali, Thailand, Malaysia, Las Vegas, Canada, China, Buenos Aires, Langkawi and more!
The highlight of my Nutrimetics career is earning the Dream Car, a brand new red Peugeot Convertible, together with a three day escape holiday and a $4,000 Diamond Ring…WOW!!  Nutrimetics is an extremely generous company, I feel blessed to have been given the opportunity to become part of this awesome company over 20 years ago.
My aim is to develop Managers within my team so they too, can be rewarded generously by Nutrimetics.  When I help others, Nutrimetics rewards me.  The Lifestyle Rewards is an awesome opportunity for Managers to be rewarded for their development.
If you'd like to find out more, fill in your details in the form below and I'll be in touch.
Lina Winship
Its my belief that people will benefit from joining our tribe because we are always willing to help others and share our "systems" so they too can succeed.  Collectively, we have many years of experience to share and are committed to helping those who want more out of life.  We are ordinary people living "extraordinary lives".